GULDET
Guldet – en magisk operaföreställning för femåringar och vuxna på samma villkor.
Turne´ med Regionteatern Blekinge Kronoberg under våren och hösten 2022
(Scroll down for English)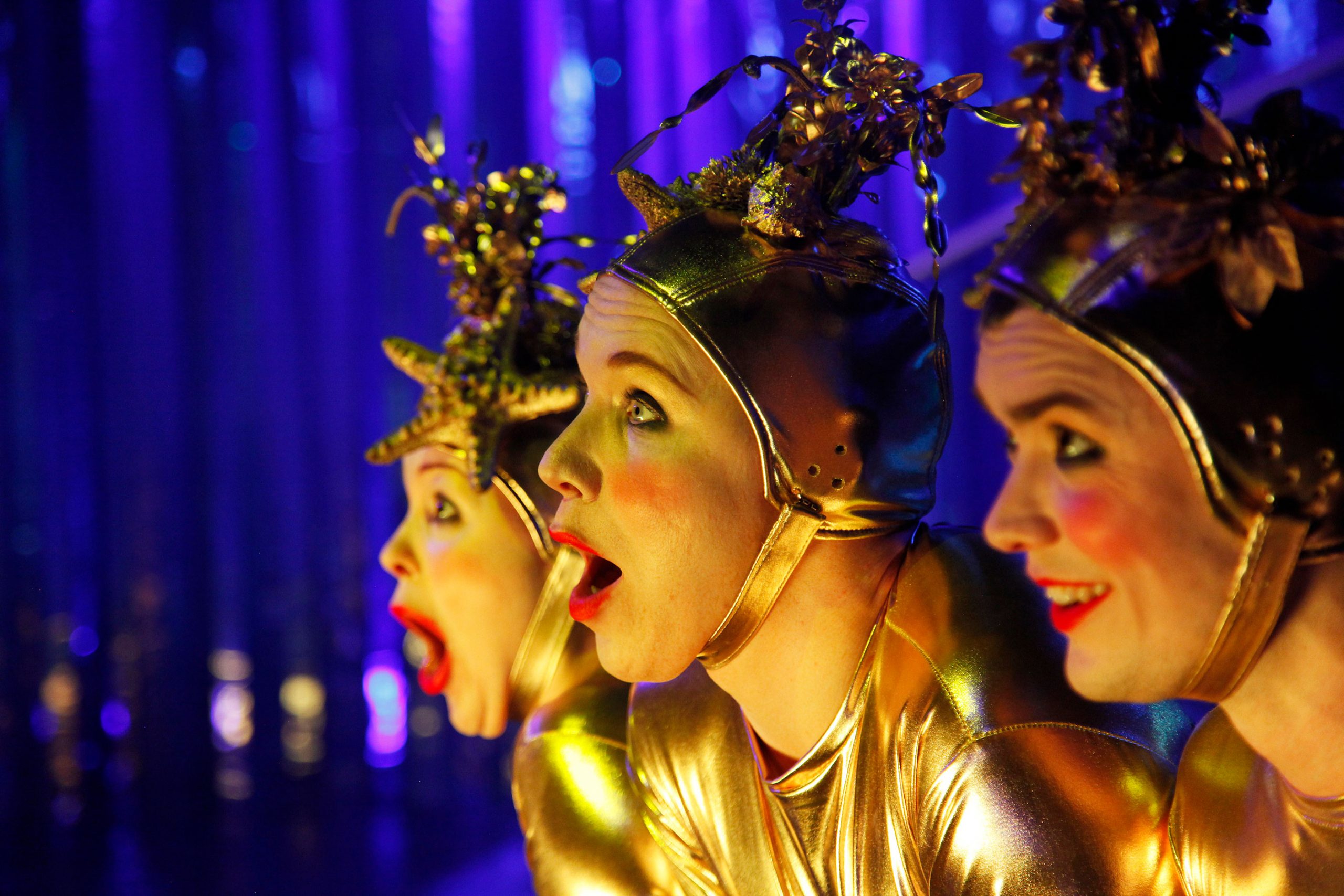 Guldet är borta! Sjöjungfrun är ledsen och gråter. Modige Måns söker i vattnet, på slottet och ända ner i underjorden. Han möter gudar med pengaproblem, hungriga jättar och en sorgsen gammal drake. Vad är det som gör att alla vill ha guldet och varför blir alla som har det så konstiga?
En glimrande musikalisk sagovärld inspirerad av Wagners opera Rhenguldet.
"En helt genial idé att upplåta scenen åt den enastående, opera-anarkistiska performanceartisten och regissören Charlotte Engelkes och låta henne gå loss på Wagneropera för barnpublik" / SvD
"Som scenisk karamell och introduktion till konsten som platsen där allt kan hända är Guldet en gåva" / Kulturnytt, SR
"Guldglänsande och lekfull" / DN
"Scenguld när Wagner besöker Skärholmen" / Expressen
The gold – a magical operaperformance for five year olds and adults alike
The gold is gone! The mermaid is sad and crying. Brave Måns is seeking in the water, at the castle and all the way down to the underworld. There he meets gods with money problems, hungry giants and a sad old dragon. What is the reason everybody wants the gold and why does the gold make everybody who owns it weird?
A shimering musical fairytale world inspired by Wagners opera Das Rheingold.
Credits
ENSAMBLE Alexander Lindberg, Isak Nord, Elin Rusk, Måns Rudfeldt
IDEA, CONCEPT AND SCENOGRAPHY Charlotte Engelkes
MUSIC Richard Wagner
SOUNDTRACK Willi Bopp
COSTUME Anna Ardelius
LIGHT AND STAGE DESIGN  Karl Svensson
ASSISTANT DIRECTOR Anna Widing
A Regionteatern at Blekinge Kronoberg production from a Kulturhuset Stadsteatern Skärholmen production with pre-production by ASTARTE.