Lohengrin Dreams turné
Lohengrin Dreams
We just started the tour in Jönköping, Kalmar, Växjö, Karlshamn, Malmö and Berlin
"
"We all come from a context, we all belong together – this is the feeling that is so beautifully conveyed as Charlotte Engelkes, with her own unique approach and with a multifaceted ensemble, puts together yet another Wagner opera." Svenska Dagbladet
WAGNER, WISHES AND FORBIDDEN QUESTIONS

After succesful premier at Norrlandsoperan and performances in Dansens Hus Stockholm, Lohengrin Dreams are now touring with Dancenet Sweden and to Berlin.
Charlotte Engelkes continues her exploration of the operaworld by Richard Wagner – playful, dead serious and totally bonkers. This time together with choreographer Ossi Niskala and with sound designer Willi Bopp, whose music together with the Norrlandsoperan Symphony, is playfully based on Wagner.

After successess like Miss Very Wagner, Siegfried – the Very Wagner Hero Hour, All is Divine, Flying Dutchmen and THE GOLD it's time for Lohengrin Dreams– a piece about standing up for your dreams, then giving in to pressure and finally finding yourself asking the one question you have sworn never to ask: "Where do you come from?"
With three dancers, two acrobats and one operasinger, Engelkes presents her latest epic performance. Lohengrin Dreams deals with the struggle between belief and doubt, fairytale and sink realism, wrapped in wondrous and quaint esthetics, to new written music and Wagner. Will the swanborne hero ever show up? And from where? Could popping the question rather connect us than separate us?
With:
Magnus Bjøru, Ivonne Fuchs, Ageliki Gouvi, Anthony Lomuljo, Henrietta Wallberg, Simon Wiborn
Direction, idea and concept: Charlotte Engelkes. Music, sounddesign: Willi Bopp, Richard Wagner, Norrlandsoperans Symphony Orchestra. Choreograf: Ossi Niskala. Light, stage: Karl Svensson. Costume: Anna Ardelius. Producer: Åsa Edgren. Photo: Mats Bäcker. Light Tecnician: Tilda Berghäll. Costume and stagemanager: Liv Karlsson.
A co-production between Astarte, Norrlandsoperan, Regionteatern Blekinge Kronoberg, Spira Smålands Musik & Teater and Sasha Waltz & Guests. With support from The Swedish Art council and The City of Stockholm.
The tour started in JÖNKÖPING now KALMAR, VÄXJÖ, KARLSHAMN, MALMÖ and BERLIN
Kalmar Byteatern 18 feb kl 1900
Växjö Konserthus 20 feb kl1900
Karlshamn Lokstallarna 22 feb kl 1900
Malmö Dansstationen 24 feb kl 1900
Berlin Sasha Waltz & Guests Radial System 29 feb kl 2000
Berlin Sasha Waltz & Guests Radial System 1 mars kl 1800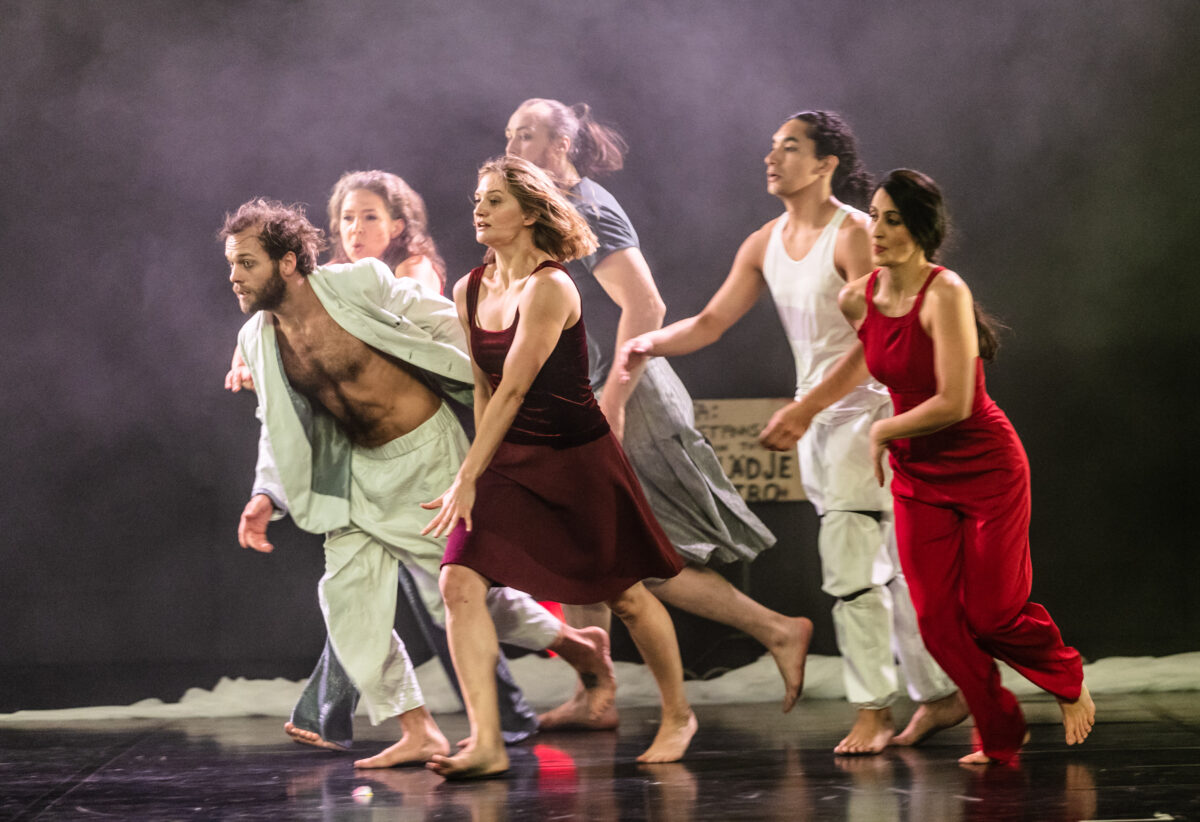 Foto Mats Bäcker