Biography
Charlotte Engelkes
(Scroll down for English)
Charlotte Engelkes – är nationellt och internationellt verksam som regissör, koreograf och artist. Hennes repertoar sträcker sig över dans, teater, opera och performance. Kännetecknas av en ohämmad genreblandning, ett personligt tilltal, en varm humor och överraskande slutsatser.
Engelkes har turnerat över hela välden och uppträtt på de flesta av Europas internationella dans- och teaterfestivaler. Bland egna verk kan nämnas SWEET,  Svarta hål- En Kvantfysisk Vaudeville, Kahlo –The concert, Siegfried -the Very Wagner Hero Hour och Min Mamma- En Dokumentärmusikal.
Engelkes är dansare och medlem i Sasha Waltz & Guests sedan 2003. Senast världsturné turne med operan Dido & Aeneas och EXODUS. Hon har samarbetat under längre perioder med kompositören Heiner Goebbels, koreografen Raimund Hoghe och regissören Ong Keng Sen. Engelkes turnerar Hamlet med musikgruppen Tiger Lillies sedan 2005.
Engelkes har regisserat Svansångare, Flygande Holländare och Bergmaninspirerade GLÄDJEN på Helsingborgs Stadsteater, spelat Fröken Julie – the Musical på Dramaten och gästat Östersjöfestivalen med Miss Very Wagner. Hon drog fullsatt hus på Kungliga Operan med Very Wagnerian Night och hennes GULDET succeföreställningen från 5 år inspirerat av Wagners opera Rhenguldet har spelat över 100 föreställningar på Stockholms stadsteater och på Malmö Opera. Senaste verket Lohengrin Dreams hade premiär på Norrlandsoperan 2019 och turnerade med Dansnät Sverige och till Radial System Berlin 2020.
Charlotte blev mottagare av Expressens musikpris Spelmannen år 2012. Sachefondens stipendiat 2017.
English
Charlotte Engelkes is national and internationally active as director, choreographer and artist. Her repertoire covers dance, theater, opera and performance. Characterized by an unrestrained genre mix, a personal appeal, a warm humor and surprising conclusions.
Engelkes have been touring all over the world and performed at most of Europe's international dance and theater festivals. Her own works include SWEET, Miss Very Wagner, Black Hole- A Quantum Physical Vaudeville, Kahlo –The Concert, Siegfried -The Very Wagner Hero Hour, Kahlo the Concert, My Mom- A Documentary Musical. Engelkes has been a dancer and member of Sasha Waltz & Guests since 2003. Most recently toured with Dido & Aeneas and EXODUS. She has collaborated with composer Heiner Goebbels, choreographer Raimund Hoghe and director Ong Keng Sen for extended periods. Engelkes toured Hamlet with the Tiger Lillies music group since 2005.
At Helsingborgs Stadsteater Engelkes has directed the Swan singer, Flying Dutchman and Bergman-inspired GLÄDJEN, she played her own Miss Julie – the Musical at Dramaten and guestplayed The Baltic Sea Festival with Miss Very Wagner. She drew a crowded house at the Royal Opera with Very Wagnerian Night and GULDET ( the Gold) performance for children 5 onwards inspired by Wagner's opera Rhenguldet has played over 100 performances at the Stockholm City Theater and at the Malmö Opera. The latest production Lohengrin Dreams premiered at Norrlandsoperan in 2019, performances in Dansens Hus and toured with Dansnet Sweden and to Radial System Berlin 2020.  Engelkes awarded Expressen's Music Prize Spelmannen in 2012. Sachefonden's Fellow 2017.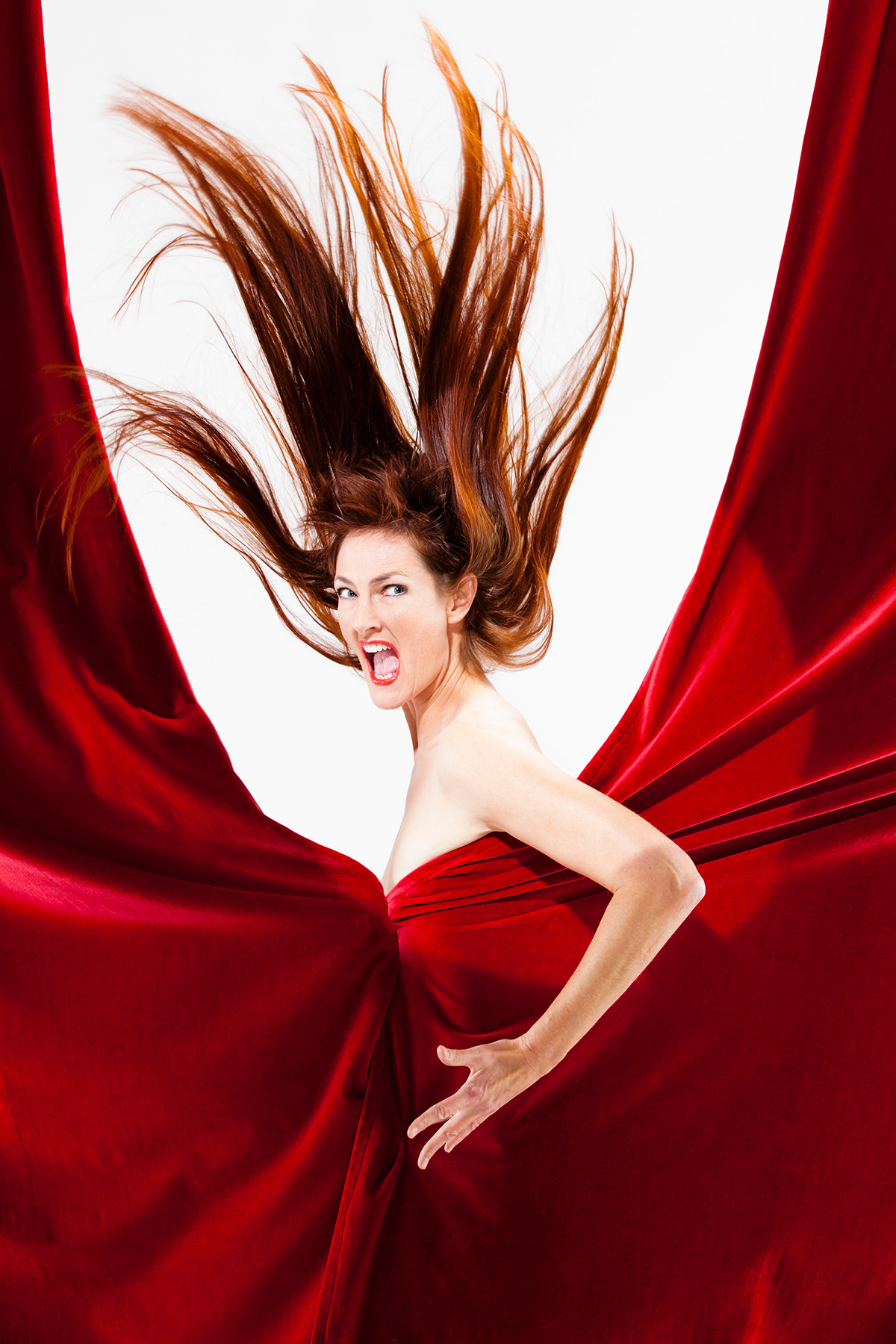 Photo: Mats Bäcker