LEKQUIEM- 100 barn dansar Mozarts Requiem
Den 19 november kl 1600 på Hangaren Subtopia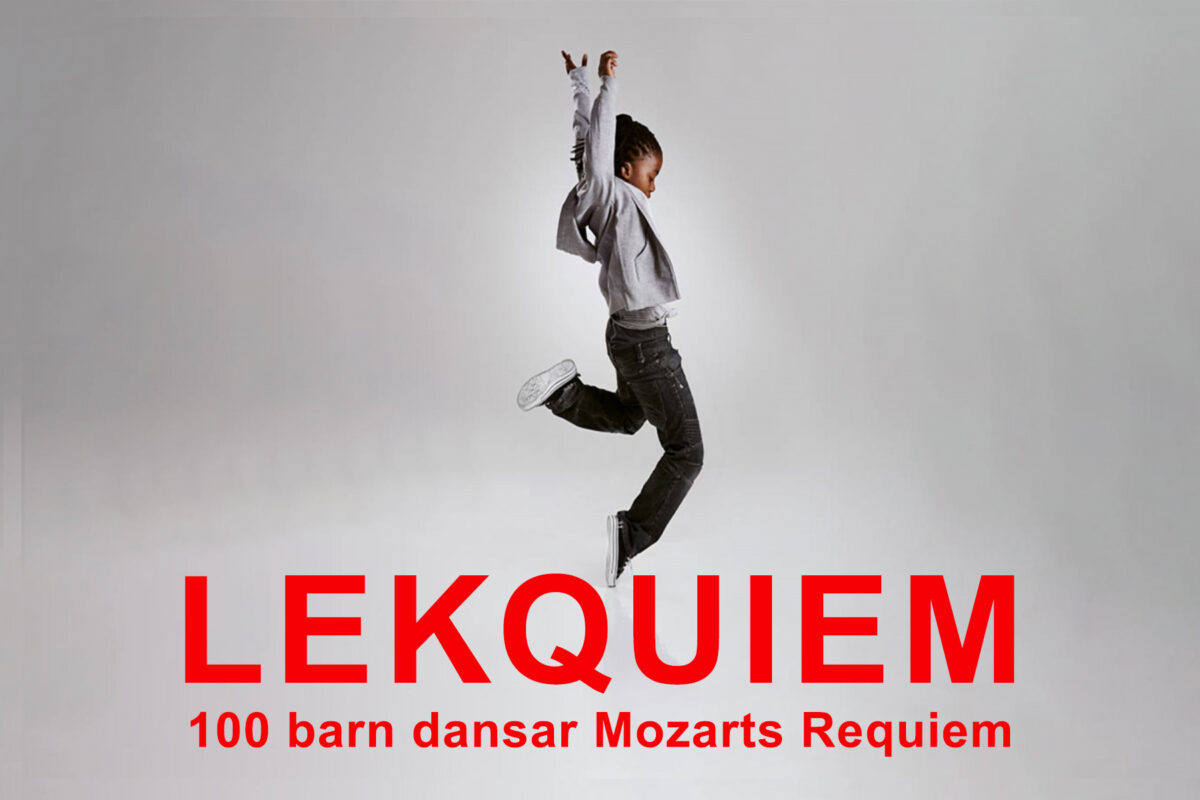 LEKQUIEM-100 barn dansar Mozarts Requiem
Mera om allt och alla : Lequiem hemsida
scroll down for english:
Välkomna till en unik händelse på Hangaren, Subtopia, Söndagen den 19 november kl 1600
Kom och upplev hur över 100 barn i låg- och mellanstadieåldern tar sig an Mozarts överjordiskt vackra Requiem. En hyllning till livet genom rörelse och musik.
Fyra dansare, 60 unga körsångare och symfoniorkester skapar tillsammans med barnen ett mäktigt konstverk för alla åldrar i den stora Hangaren på Subtopia i Botkyrka.
Artisten och regissören Charlotte Engelkes och dirigent Christian Karlsens idé är att låta barn kanske för första gången få möta och uttrycka sig till symfonisk musik. Under fem skolveckor träffas dansare och barn för att sedan tillsammans göra en enda stor danskonsert. Fokus är också att låta barnens egna tankar om liv och död berättas till Mozarts berömda musikstycke Requiem från 1791.
Möt dansarna Henrietta Wallberg, Katarina Eriksson, Daniel Staaf och Adam Stanisic Stålhammar med Västerås Sinfonietta och ungdomskör från Stockholms Musikgymnasium, tillsammans med 100 barn från Kvarnhagsskolan, Tallidskolan, Fittjaskolan, Broängsskolan och ViGör scenglädje i Botkyrka den 19 november kl 1600.
En danskonsert med symfoniska möten för unga, där barnen blir dansare, kroppar och röst till det smärtsamt vackra och kända Mozarts Requiem. Vi kallar det LEKQUIEM!
Varmt Välkomna!
Biljetter
Boka biljetter till Söndag 19 november kl 1600. Hangaren Subtopia, Albyvägen 38.
Biljetter köpes genom att Swisha till 123 034 08 44, ASTARTE förening
Välj valfritt belopp, rekommenderat biljettpris ca 150 kr styck.
Föreställningen är ca 50 min. Insläpp från kl 1545. Publiken är stående, den som behöver sittplats kan boka stol. (Begränsat antal)
mer info: Lequiem hemsida
Credits
Idé, scen och koncept: Charlotte Engelkes och Christian Karlsen
Producent: Ulrika Skoog Holmgaard
Regi och koreografi: Charlotte Engelkes
Musikalisk ledning: Christian Karlsen
Musik: Mozarts Requiem framfört av Västerås Sinfonietta
Dansare: Katarina Eriksson, Henrietta Wallberg, Adam Stanisic´Stålhammar, Daniel Staaf
Kör: Kungholmens Musikgymnasium
Medverkande barn från skolorna: Kvarnhagsskolan, Fittjaskolan, Tallidskolan, Broängsskolan i Botkyrka och Vigör Scenglädje i Tullinge,  Botkyrka,
Ljusdesign och teknik: Karl Svensson
Ljuddesign och teknik: Arne Bock
Rekvisita, kostym: Anna Ardelius
Dokumentär ljud och video inspelning: Erik Pauser
Scenmästare: Henrik Enar
Grafisk form: Henning Lindahl
Produktion: Ideella föreningen ASTARTE i samarbete med ideella föreningen Scenit, Västerås Sinfonietta, Subtopia i Botkyrka, Stockholms Musik gymnasium, Dansens hus.
Med stöd från: Kulturrådet, Stiftelsen Signatur, Susanne Hobohms stiftelse för utbildning kultur och forskning, Region Stockholm Kulturförvaltningen och Botkyrka kommun.
LEKQUIEM – 100 children dance Mozart's Requiem
Welcome to a unique event at Hangaren, Subtopia, Sunday 19 November at 1600
More info about everything : Lequiem hemsida
Come and experience how over 100 children of primary and middle school age take on Mozart's otherworldly beautiful Requiem. A celebration of life through movement and music. Four dancers, 60 young choir singers and a symphony orchestra together with the children create a powerful work of art for all ages in the large Hangar at Subtopia in Botkyrka.
Artist and director Charlotte Engelkes and conductor Christian Karlsen's idea is to allow children, perhaps for the first time, to meet and express themselves to symphonic music. During five school weeks, dancers and children meet together to make one big dance concert. The focus is also on letting the children's own thoughts about life and death be told to Mozart's famous piece Requiem from 1791.
Meet the dancers Henrietta Wallberg, Katarina Eriksson, Daniel Staaf and Adam Stanisic´Stålhammar with Västerås Sinfonietta and youth choir from Stockholm's Music gymnasium, together with 100 children from Kvarnhagsskolan, Tallidskolan, Fittjaskolan, Broängsskolan and ViGör stage joy in Botkyrka on November 19 at 1600.
A dance concert with symphonic meetings for young people, where the children become dancers, bodies and voices to the painfully beautiful and famous Mozart's Requiem.
We call it LEKQUIEM!
Book tickets for Sunday 19 November at 1600. Hangaren Subtopia, Albyvägen 38.
Tickets can be purchased by Swish to 123 034 08 44, ASTARTE association
Choose free amount, recommended ticket price approx. SEK 150 each.
The show is about 50 minutes. Admission from 1545. The audience is standing, those who need a seat can reserve a chair. (Limited amount) ulrika@scenitproduktion.se